BOLD AND THE BEAUTIFUL
American singer Bob Dylan once said that the purpose of art is to stop time and, in a way, Bahraini Mahmood Qannati has just done that by capturing precious moments in time and transforming them into wearable masterpieces.

The 42-year-old head of marketing and corporate communication at Al Salam Bank started his passion project of Qannati Objet d'Art in 2018 after having his third child.

"It was a moment of reflection and realisation," said Mahmood, the founder and chief executive of Qannati, from A'ali.

"I travelled through the past, present and future reflecting on my life and whether I have lived it to the fullest and whether I am leaving behind a legacy. I immediately thought about my passion for horology (the study and measurement of time), art and history. It thus started as a passion project."

Mahmood was always fascinated by watches and thought why not turn them into wearable art — which are art pieces in the shape of jewellery and watches that are handmade and piece-unique (produced only once).

"Each piece of wearable art tells a story in an artistic way through its unique craftsmanship and design and materials used," said Mahmood who has a Master's Degree in marketing information systems. He has been a marketeer and public relations specialist for more than 22 years for multiple industries including banking, telecommunications, aviation and automotive.

"I loved watches on my wrist but never cared so much about the time-telling part. In fact, when I see the seconds moving, non-stop, I feel anxious, I feel late, I also feel time is passing by fast, like never before. So I decided to freeze time (or time-keeping). This was the beginning of Qannati. I froze precious and dear moments in my heart so I can go back to these safe and peaceful moments any time I like."

With this principle in mind, Mahmood decided to build a brand that specialises in the art of time-keeping rather than time-telling - and Qannati was born.






The multidisciplinary niche luxury French Bahraini brand was formed in partnership with France's most talented experts in the field— jewellery 'conceptor' and designer Frédéric Mané as the artistic director of Qannati, and Jothi-Sèroj Ebroussard as the master jeweller and sculptor.

"We help customers choose a moment they treasure from their lives, and transform that moment into a personalised precious art object that you can wear on your wrist," said Mahmood.

"We serve as a canvas for self-expression.

"We are not jewellers. We are not watchmakers. We are storytellers. In Qannati Objet d'Art, we focus on the art of time-keeping rather than time-telling. We choose gemstones and other exotic materials that bring your moment to life."

For example, Mahmood was long fascinated by the Epic of Gilgamesh. "It's a tale that poets and historians alike consider to be the source of foundational heroic sagas like the Homeric epics," he explained. "One day, strolling through the Mesopotamian collections of the Louvre museum, I discovered on the sculpted figures of formidable kings, flower motifs carved into ornaments worn on both wrists.

"The symbol, known as the 'Flower of Life', was reserved for legendary kings of Mesopotamia and their 'chosen' ones, as an emblem of their divinity and power. I found great resemblance with my project and with what I was trying to accomplish. I realised that I am not inventing something, I am bringing it back to life after more than 5,000 years."
Qannati is also serving a growing niche of luxury jewellery for men and according to Mahmood, that is why the sales of unisex jewellery are on the rise.

"It is because men are buying more and are very sentimental about their jewellery," he explained.

"They also prefer their wrists as a real estate to show who they truly are. And because every person is unique, Qannati is a canvas for these people to celebrate precious moments of their lives by freezing those moments and converting them into breathtaking wearable art pieces. Also, if a client chooses to provide us with their own gemstones, a bespoke project can start from $5,000."

The masterpieces keep travelling around the world including Dubai, Kuwait, Paris, Monaco, parts of the US and more, through a pre-determined tour and currently six pieces are with Mahmood in Bahrain.

There is no shop so to speak, instead they meet clients in their design studio in Paris or Atelier in Nice, or visit clients wherever they are based.

The works of art, including designs such as the Alpha Eternity Bracelet (or the Big Bang) — which is the most expensive one sold early this year — have been exhibited in up-scale events such as Couture Week-Paris, the Palm Beach Show, Jewellery Arabia, Bahrain Fashion Week, Rand Luxury, Lake Tahoe Concourse and more.

The next most expensive piece is the Gladiators Eternity Bracelet. Other beauties include the Jurassic Eternity Bracelet, the First Civilisation Eternity Bracelet, the Pearl of the Gulf Eternity Bracelet and more.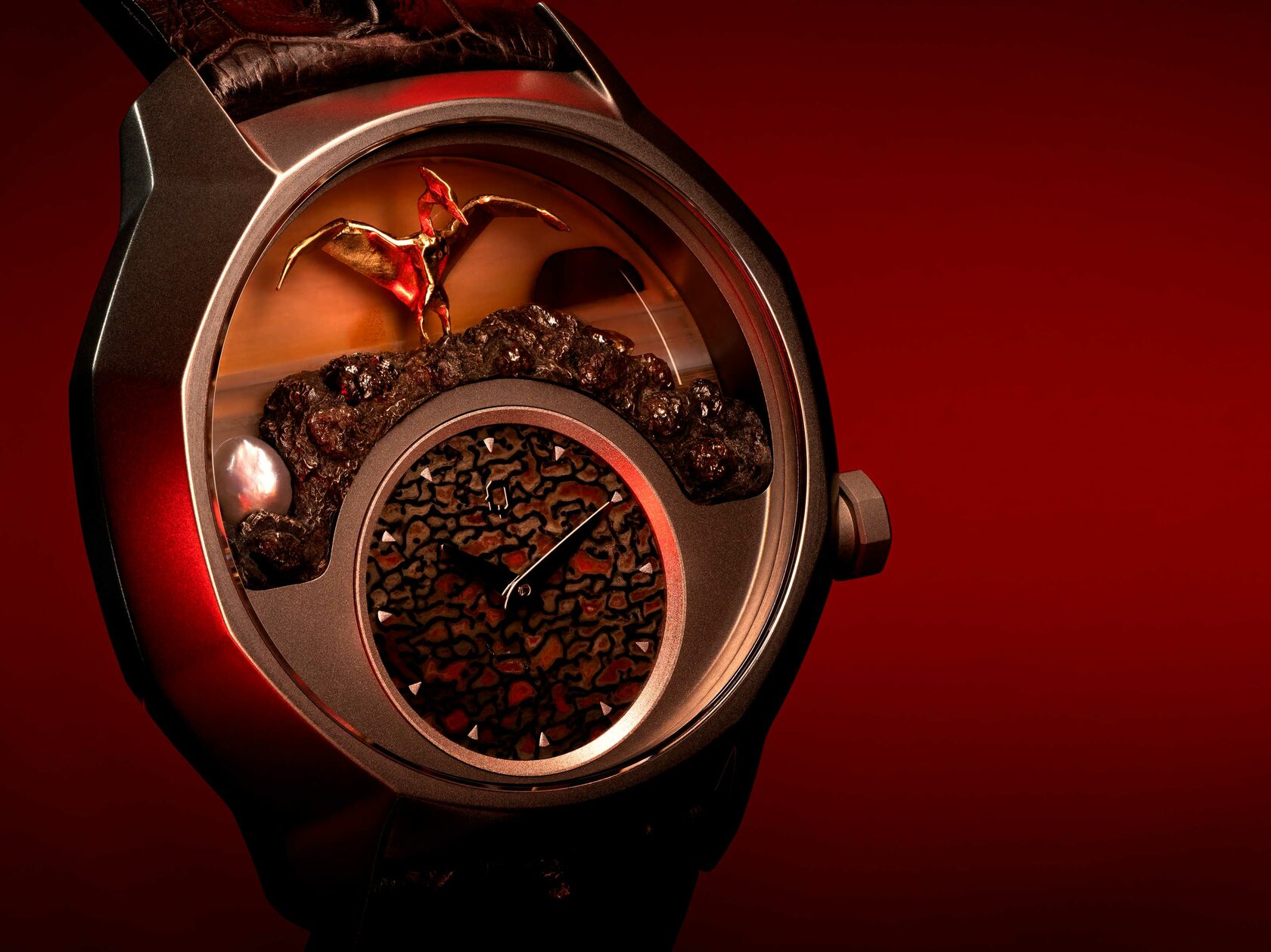 "All Qannati masterpieces are personal to me," he said. "But the one I am wearing now is the most personal of them all because of the moment I froze in that piece. This is one of the simplest but dearest to my heart. In the middle of the piece is a beautiful green emerald that belongs to my mother. Every time I look at a 90-degree angle, I see a reflection of myself on the emerald, which takes me back to when I was seven years old, holding my mum's hand in the streets of Hamburg. It was a happy moment, so I don't get tired travelling back in time to it."
Visit
www.qannati.com
or follow @qannati on Instagram for details on the designs and brand.